Author's Note: Profanity ahead. This piece is a lighthearted take on the topic, so I request that you treat it as such (and with maturity).
---
We're surrounded by profanities, cursing, swear words or whatever other synonym you'd like to call it. Most of us even use them. The question on everybody lips is:
Is It Wrong to Swear?
It depends. I'm sorry, it fucking depends.
What does it depend on? Context, dear reader. Context. Swearing in a football locker room would probably be acceptable. Audibly concluding a phone call with the Arabic equivalent of "Fuckety-bye, you unbearable asswipe!" on a Saudi Arabian bus packed with schoolchildren would probably not be. It could even get you jailed.
As you can likely envisage, the difficulty is knowing what words to use in what situation. To answer this, we'll need to decode what profanity is all about.
What is Profanity?
To state the fairly obvious: Obscene, blasphemous or offensive language. Anything that might need grawlixes.
But again, classification of profanity is underlined by context and subjectivity. Offensive to one may be delightful to another. Case in point: the "So where the bloody hell are you?" advertising campaign.
In general, however, swear words (in English, at least) are divided into two categories (http://people.howstuffworks.com/swearing.htm):
Deistic - Related to religion
Visceral - Having to do with bodily functions and features
Different Levels of Swearing
Like electrons around atom nuclei, there are different levels of swearing, varying in vulgarity or offensiveness. Consider:
Exhibit A
Crap (quite low on the offensiveness scale.)
versus:
Exhibit B
Cunt (towards the opposite side of the spectrum.)
When to Swear: My Perspective
Avoid swearing audibly in public or around children, if possible. Especially the stronger, more obscene words. Unless you really don't care. Use your intuition!
Why Avoid Swearing Around Children?
Because they parrot what their parents or peers say, without really considering what they mean. I recall shouting "fuck you" aloud to gain street cred (playground cred, really) in grade 5 (1999) without any clue what this phrase meant*. My peers suspected that I didn't know what it meant and even ribbed me for it. It wasn't until grade 6 (2000) when I got my first dictionary that I realised what it really meant.
Children, especially ones under 10, do not have the maturity and understanding of sociocultural norms to make a judgement on what is right and wrong. Moreover, since kids spend a lot of time around other kids, it is reasonable to wish that other kids expose your child to a minimal of profanities.
That, and profanity is tied in with malice – and you want to teach kids kindness.
How to React when Children Swear
How Stuff Works offers sound advice:
Instead of laughing or becoming upset if you hear your child swearing, you should:

Explain that the word is not acceptable for children to use. The concept of a "bad word" can be foreign to children who are just learning how to speak.

Offer an alternative word to use when angry or upset.

Use humorous substitutes instead of swearwords in front of your children.

Remain calm and matter-of-fact. If you get upset, your child may use the word again to try to get attention.
Why People Swear
Psychologist Steven Pinker outlines a sensible list in his talk, The Stuff of Thought: Language as a Window Into Human Nature:
Dysphemism - Intentional usage to elicit a strong emotion. cf. Euphemism.
Abusive Swearing - Abrasive words designed to insult.
Idiomatic Swearing - Attention-grabbing, establishes informality and asserts 'coolness'.
Emphatic Swearing - Similar to idiomatic swearing, used for emphasis.
Cathartic Swearing - A response to stress e.g. spilling hot coffee over yourself.
And needless to say, the reasons above often overlap in day-to-day use. Example situation:
A man cuts you off in traffic. You are in a ball of fury. Emitting "You bad man!" is somewhat underwhelming and doesn't do justice to your mental state. "You fucking useless prat in a hat! Kiss the cunt of a cow!" might be a bit more like it. This could be a dysphemism, abusive, emphatic, cathartic and maybe even idiomatic.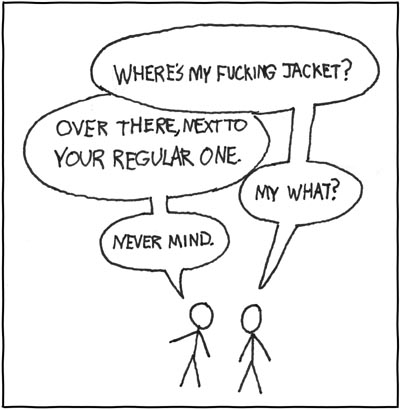 Why Children Swear
To fit into a crowd
Because they don't know any better
To rebel or seem more adult-like
Or for the reasons above in Why People Swear
Neuroscience and Swearing
Swear words effectively arouse emotion because they're processed in the deeper regions of the brain by most people, which is where instinct and emotion are governed. Contrast this with normal language with is processed in the higher/outer regions of the brain or the cerebral cortex. For more, see Swearing and the Brain.
Swearing and Intelligence
Some of the sharpest people I know swear. I dispute the claim that swearing necessarily indicates a weak vocabulary with my previous statement and this video:
Having said that, I'd like to add excessive and unnecessary swearing does decrease my perception of your intelligence. Except perhaps in rare cases, like this contrived example:
I come home to my fucking house after three fucking years in the fucking war, and what do I fucking-well find? My wife in bed, engaging in illicit sexual relations with a male!
Presumably conjured up by Steven Pinker, as seen on his talk, The Stuff of Thought: Language as a Window Into Human Nature
Concluding Remarks
Swearing is a precise scalpel, so treat it as such. It can even be beneficial in some situations. Don't use extreme words unnecessarily. If you must use it, use it non-abusively – unless the situation really calls for it.
Notes
Looking back now, I think I actually shouted this phrase whilst running and flailing my arms like a drowning person who is also being electrocuted simultaneously. No wonder this didn't give me any 'tude.
Further References